With the cold weather setting in and Christmas songs playing in the shops, its well and truly time to welcome in the festive period. Yes, that's right, 'tis the season to stay indoors, eat a lot and move very little. Which is wonderful, until a few days in where you start feeling a bit ropey. All the hard work you've done through the year seems to evaporate as the old aches and pains start to make their presence known. Keeping up your Pilates routine can be tricky over the festive period but here are a few handy tips and exercises to help you survive the festive period and keep you feeling your best.
With the excuse of cold weather, warm winter fires and dark evenings keeping you indoors you can keep exercises up in your own home to stave off the effects of stiffening up over the festive season. 
Are you somebody who has beautiful posture in your Pilates class and then slouches out the door? If so, make this Christmas the time that you remember all the postural points your instructor tells you about during your classes. Your little black dress or kilt outfit will thank you for it at the Christmas parties. Good posture can make a nice outfit look amazing, and yes, you have to work extra hard at it in heels!
Even five minutes a day can help maintain mobility, the next few exercises have been chosen as they give you a good mobility workout and can be done in a small space. If you are not comfortable on your wrists you can do these exercises on a clenched fist, keeping the wrist straight or come down onto your elbows. Stop if any of the exercises are uncomfortable and see your Physio/Pilates instructor for an alternative. We've added a festive twist onto your usual Pilates exercises.
"Three Kings" Cat and Camel. In 4-point kneeling, start by inhaling and engaging your centre, exhale and arch your back into a deep C-curve, dropping your head between your arms. Inhale and hold then slowly unravel the other way as you exhale, just lifting your head far enough to look at the floor in front of your hands. Repeat 8-10 times.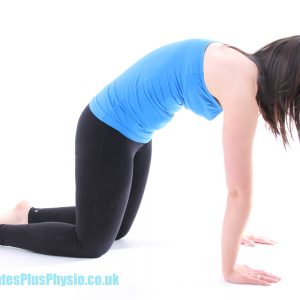 Thread the 'Christmas' Needle. In 4-point kneeling, exhale as you thread one hand through to twist your spine. Inhale and hold. Exhale and draw the arm back through, lifting it up to the ceiling to rotate the spine the other way. Inhale and hold, then repeat 6-8 times each side.
'Mulled Wine' Corkscrew
Start by standing tall with your spine in good alignment. Take your hands up and onto our head. Take a breath in as you draw your shoulders up towards your ears and out to let your shoulder blades melt down your spine. Repeat 4-8 times. Add in a side bend as shown to work into the flexibility of your upper back.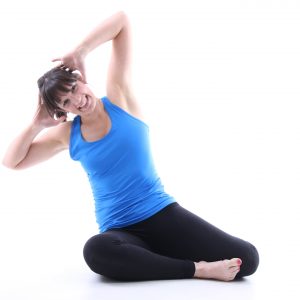 With the period being so busy it might also be nice to take the time out of your day to recharge your batteries before the next Christmas party. Exercising has been shown to help improve sleep, produce happy hormones, and help you stay healthy. The Physio plus team are always on hand over the Christmas break to help with any injuries, niggles, massages or for those of you who are extra keen some 1:1 Pilates sessions. Gift vouchers for classes and treatments are also available so just get in touch if you want to get someone something useful they'll enjoy over the festive break. 
Think about all the cues you hear in your Pilates class each week. Checking the turkey in the oven? Engage your centre as you bend down. Reaching out to fix a decoration on the tree? Keep your shoulders melted down your back. Christmas carolling? Find neutral pelvis. Pouring mulled wine? Lengthen through the back of your neck! Before you know it, the entire festive season will be filled with Pilates.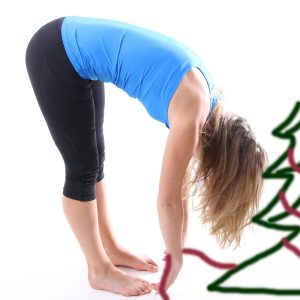 If you do any festive Pilates moves, please post on the Pilates Plus Facebook page or tweet us @PilatesPlusPhys, we'd love to see how you keep yourself fit over the holidays!
Wishing you all a wonderful festive season and best wishes for the new year from Laura and Tess and all the Pilates Plus team. We look forward to seeing you rested and ready for some new challenges in 2018!